08/18/2014 at 02:59 PM ET
Kelly Osbourne's been dropping hints about her upcoming clothing line for months, and since patience isn't our strongest virtue, the suspense has been killing us. But she's finally announced a launch date (Sept. 25!) and given us an exclusive look "behind the seams" at her upcoming collection.
Stories by Kelly Osbourne

First things first: She made good on her promise to provide clothes up to a size 24. ("I'll never make anything that won't be translated to plus-size as well. Because everyone deserves to wear fashion," she said last September.) And not only that, she's standing by her decision to provide affordable clothes for every figure. "In my research, I've found that the prices go up after size 10 and that really hurts my heart — it's not fair!," she told PEOPLE. "So with my line, the size 2 will be the same price as the size 24."
In fact, it was her commitment to having a broad spectrum of sizes that delayed her line this long, according to WWD, which notes that she spoke to 11 apparel manufacturers before finding a perfect fit (so to speak) with Jupi, which also produces the Kardashian Kollection. The result? 13 head-to-toe looks which start at $55 and top out at $170, all under the umbrella of "Stories … by Kelly Osbourne." (Yep, that explains the head tattoo below.)
RELATED PHOTOS: Love Her Outfit! Star style worth stealing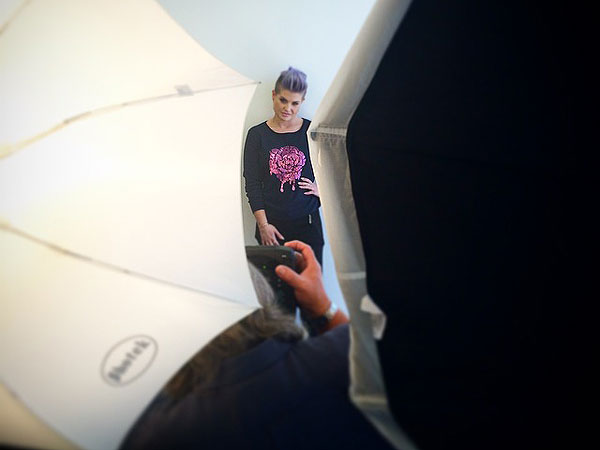 Stories by Kelly Osbourne
So how did she choose the name? "I believe that every time you wear something, you have a story of where you wore it, whether it be good or bad," she told WWD. "What made me realize this was when I was going through my closet and I was like, 'Oh, I wore those shoes on stage every day when I was in Chicago,' and 'I wore that dress to my friend's funeral,' and, 'Oh my gosh, I wore that skirt on a date and it still has a stain on it from where I fell off the steps because he tried to kiss me, I didn't want to kiss him and I broke my wrist. I can't get rid of that.' Like, there are all these funny emotional attachments."
Osbourne has been giving glimpses at the collection, which will be sold on HSN starting Sept. 25 and Bluefly (for international shipping) a month later, and shares that she already has a few celeb fans putting in requests for pieces — Taylor Swift is a fan of the black-and-white polka-dotted dress, while Ciara selected three pieces for her closet.
Check out more photos from her first preview with WWD here, and tell us: See anything you can't wait for? What are you hoping to see in the rest of the collection? Tell us below!
–Alex Apatoff

Source: Kelly Osbourne's Clothing Line Is Here – and Fits Up to a Size 24! (PHOTOS)